Editorial
CHRISTMAS came and went, and suddenly it's 1999. Back in the mid-80s, we remember partying like it was 1999. We had some notion that the real thing would be wild and unrestrained, a millennial orgy of the senses that flirted with the remote possibility that the year 2000 would bring widespread destruction and the end of civilised life. The music would be just edging from inspiring to painful, and the scene would be lit in a manner reminiscent of the Rapture. Old friendships would compete with new and frantic liaisons as the old order reluctantly gave way to the new. We would dance, drink, eat and fuck like feral offspring of the fin de siècle.
In the event, we saw in 1999 at a small and cosy party at Naomi's pleasant cottage in a village in the Home Counties. We switched on the telly at a minute to midnight to watch Big Ben, and celebrated with champagne and party poppers. After midnight, we were first-footed by Michael Abbott, and then fell to discussing the various drives home, and the fact that this time next year half of us would be spending the Not Actually the Millennial New Year's Eve working at phenomenal rates of pay, and the other half would find it impossible to get babysitters.
We had good food, good drink and good company, which is just as well considering that Naomi trades parties for Plokta in a somewhat elastic interpretation of the Usual. We were expecting Michael Abbott and Anne Wilson to come home with us and join the Cabal in a Plokta-producing session, as Michael had long cherished a desire to join us in eating and drinking far too much see the Plokta creative process in action.
However, it turned out that they couldn't make it. "Big mistake", we said. "You do realise that we're going to have to put in lots of extra Michael Abbott jokes if you aren't around to stop us".
We would, however, like to apologise to Mike Siddall, who has a more delicate constitution than is generally realised, and for whom it must have been a nasty shock to have an A4 photo of a grinning Michael Abbott landing on his doormat. We'd stop reading now Mike -- there's worse to come.
You may have noticed that Plokta has a new look this issue. This is largely Dave Hicks's fault, as we took one look at Fandom Guardian and thought, "Bloody hell, we've been out-superfluoused [OK, so you tell us the past participle of the verb derived from "superfluous" if you're so clever]. This will never do." So we let Dr Plokta loose with Word for Windows and instructions to crib all the good bits from the design of New Scientist. Unfortunately, he set it up and then wandered off into the sunset giggling, and we haven't seen him since. [Actually, he's been busy designing a completely different new layout for the Web version.]
The new layout has extra space for bollocks, demanding lots more snappy two-paragraph allegedly humorous pieces. We are therefore launching the Plokta Old & Obsolescent Bollocks Appeal. Send us your old, stale jokes and ideas and we'll apply a lick of paint and pass them off as our own. Remember, POOBA needs your jokes.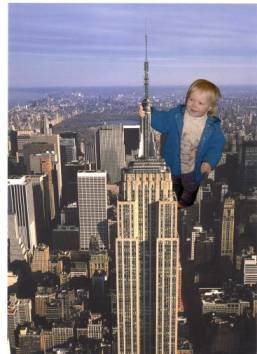 We're also hoping to use a new reproductive process, giving better quality photographs. This means that we can use lots more photos of fans in compromising positions, and we want you to send them to us. Digital preferred, but we accept old-fashioned prints as well.
But the big news is that this is the first fanzine to be produced by Lego's new Branestawms technology. Using only a few bits of plastic, a household infrared controller and three of those long yellow bumpy bits, we have built a robot which will write the entire fanzine for us, leaving us more time to sit around while it hand-feeds us truffles between articles. Just don't expect any more issues after the Millennium.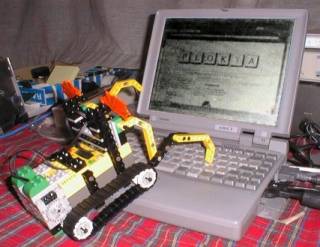 The Editor
We've called him Peter Mandibles, because he was bought with the aid of an enormous overdraft. Have you been wondering what the £373,000 was spent on? Lego is expensive.
Finally, Alison, Steven, Marianne and Dr Plokta have been to Boskone. Watch out for compromising photos of Americans next month, for a change.

---